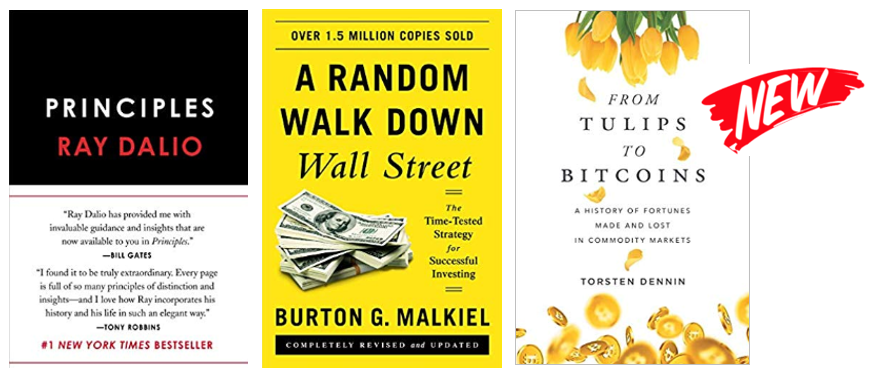 It is a hot summer. Not only temperatures are rising, but also the heat map of financial, economic and political risk factors. President Trump is engaging in a trade war (China), restarting a currency war (Europe), and lately also juggling on the brick of a military war as well (Iran). Equity markets are catching their breath after the longest economic upswing since the golden 1920ies. A pause, or a pre-sign of a depression to come?  
The timing is perfect to update yourself on the way to manage your personal wealth (or the money that might become your personal wealth in future). Three books might help you in particular to achieve your financial freedom, and entertain you while relaxing at the beach:
Ray Dalio – Principles: Learn the lessons of successful decisions from the founder of Bridgewater, one of the richest and most powerful investors of all times
Burton Malkiel – A Random Walk Down Wall Street: Long term an investment in equities is superior to everything else. But which strategy to imply and is market timing on your side?
Torsten Dennin – From Tulips to Bitcoins: The book covers speculation in commodity and crypto markets from nearly 400 years – After this highly entertaining read you should know how to spot a bubble!
Enjoy the summer with this excellent selection of books from Finance & Investing!
Link to the book. Here.

Ray Dalio and his new book, Principles, need little introduction. In 1975, Ray Dalio founded an investment firm, Bridgewater Associates, out of his two-bedroom apartment in New York City. Today, Dalio has a net worth of over 18 billion USD. He argues that life, management, economics, and investing can all be systemized into rules and understood like machines. Ray Dalio shares the unconventional principles that he has developed, refined, and used over the past forty years to create unique results in both life and business—and which any person or organization can adopt to help achieve their goals.



Read this book to make the right decisions!

Link to the book. Here.

Investing doesn't necessarily mean you devote hours a day to manage your portfolio. "A Random Walk Down Wall Street" is invaluable reading for those who are trying to get a handle on their personal finance and investing. The book includes some handy definitions of investment terms, and it applies them to various investment strategies geared toward different stages in life. The author emphasizes long-term investments rather than get-rich-quick schemes and how to predict prices and avoid common mistakes. This is a new edition of a book that's has sold more than 1.5 million copies to date.


Read this book to allocate your investments right!

 

Link to the book. Here.

NEW Commodities and Cryptocurrencies are on the cross-roads of mega investment trends. Just released a month ago, and already an Amazon bestseller in Commodities and Digital Currencies, "From Tulips to Bitcoins" journeys through the biggest and most interesting speculations in commodity and crypto markets from the Dutch Tulip Mania in the 17th century to Bitcoins today. It covers the Silver Thursday and the Hunt Brothers, the doom of Amaranth Advisors, Copper and the Congo, Gold, Rare Earths, Energy Metals, and Bitcoins, which rose from below 1,000 USD to above 20,000 USD within a year. History might not repeat itself, but it certainly rhymes.



Read this book to spot the next bubble!

 
---